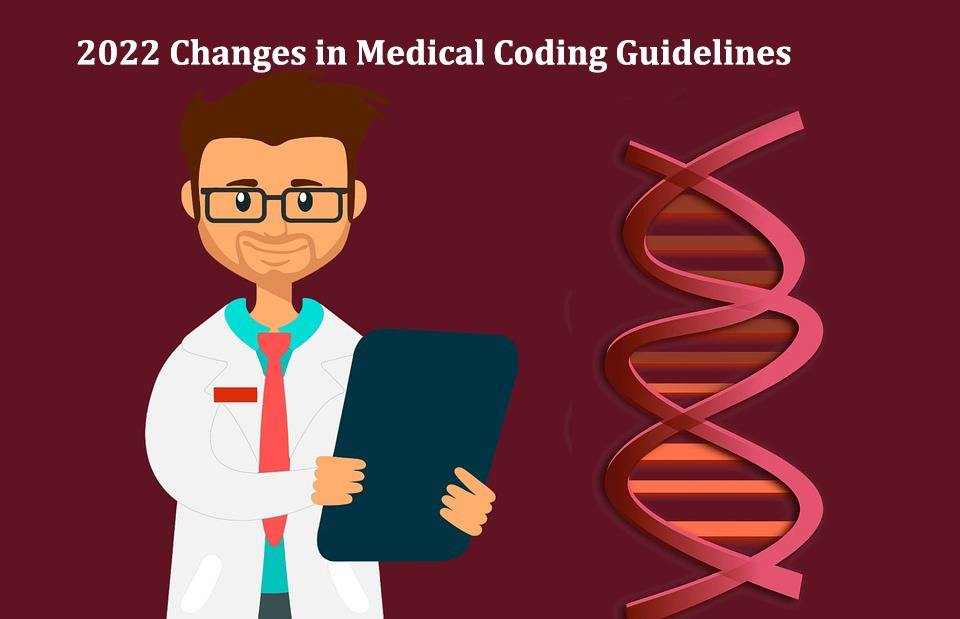 2022 Changes in Medical Coding Guidelines
The physicians and healthcare providers use ICD-10-CM(International Classification of Diseases, Tenth Revision, Clinical Modification) to classify and code all investigations, systems, and processes. The World Health organization published ICD-10-CM, which is based on the International Classification of Diseases. It uses different alphanumeric codes to identify diseases and other health issues. Physicians, nurses, coders, health managers, and many other health professionals use coding systems to store and retrieve diagnostic data. International Classification of Diseases records is also helpful in collecting mortality and heavy heartedness statistics.
In medical coding in 2022, there were 159 new ICD-10-CM codes, 25 ICD-10-CM code deletion, and 27 ICD-10-CM code revisions, placed with the effect of October 1. While dealing with it, be aware of these changes to yourself updated through ICD-10-CM coding guidelines.
ICD-10-CM is more beneficial as it is helpful to get more information about a patient's condition. It was necessary to amend it as the previous one was running out of code capacity to expand. Most of the code levels were full. Moreover, this code provides more specifications with details.
ICD-10-CM has been revised frequently since 2003, even before it was formally adopted in the United States to keep up with alterations made to ICD-10 by WHO.
FY 2019 Changes:
On October 1, 2018, the 2019 ICD-10-CM codes became effective and should be used for clearances and patient meetings from that date through September 30, 2019. The Four organizations approved these 2019 guidelines that are following:
The Centers for Medicare & Medicaid Services
The National Center for Health Statistics
The American Hospital Association
The American Health Information Management Association
These updates contain 279 new codes and 143 revised codes and remove 51 codes, bringing the total number of regulations to 71,932.
General Division:
The new strategies can be divided into four categories:
Category one: Chapter specific and general guidelines
Category two: Guidelines for diagnosis for non-outpatients
Category three: Guidelines for reporting additional diagnoses in non-outpatient settings
Category four: Outpatient reporting and coding
Due to the COVID-19 pandemic, there were many drawbacks to coding guidelines. The 2022 guidelines aimed to give rise to E&M coding into the advanced period of telemedicine by overcoming the inefficiencies.
Changes to Office and Outpatient Services:
The new E&M medical coding guidelines involve:
Restructuring, modifications, and E&M guidelines addition: There is a revision of codes 99201-99215, and code 99201 is deleted. There is a use of MDM for both 99201 and 99202 regulations.
Additional factors for code selection: These different aspects are MDM, total time, and medical history.
Inpatient and Outpatient CPT Codes: 1995 and 1997 E&M guidelines are used in different aspects such as Initial Hospital stay, observation, emergency, and next hospital stay.
The new guidelines will cause several changes to offices and outpatient services.
Eliminating scoring by history and physical examination to formulate coding according to doctors and other healthcare strategies.
Detailed CPT codes will improve paying and coding.
Here was a promotion of a higher level of MDM actions.
Considering the MDM criteria, CMS and audit tools were necessary.
All of these above changes will be helpful:
Exclusion of unnecessary documentation that is not part of patient care.
Less use of auditing.
To discourage the administrative burden of coding and documentation.
It ensures that E&M expenses are resource-based.
Histories and Examination:
In previous years, there was an inclusion of medical history and physical examination. However, in new E&M medical coding guidelines, history and analysis have been excluded. Changes are also meant to simplify the code selection criteria and make them more pertinent.
Under these new regulations, the provider will report what he feels is relevant and appropriate to the patient. In brief, you will document based on judgment instead of providing records.
Many medical coders are so busy that they feel it is too difficult to carve every detail. That is the primary reason we have furnished a few highlights.
New codes for:
Ehrlichiosis (A77.49)
Malignant bilateral ovaries as primary and secondary
Niemann-Pick Disease A/B (E75.244)
Non-ischemic myocardial injury (I5A)
Traumatic brain compression and herniation (S06.A0-) as well as poisoning and adverse effect by cannabis (T40.7-)
Post-COVID-19 condition, unspecified (U09.9)
A legal intervention involving other means (Y35.899-)
Gastric intestinal metaplasia (K31.A-)
Irritant dermatitis (L24.A- and L24.B-)
Expansion Of Codes:
Sjogren Syndrome (M35.0-), non-radiographic axial spondyloarthritis (M45.A-), and low back pain (M54.5-)
Abnormal findings on neonatal screening (P09.-)
Cough (R05.-) and feeding difficulties (R63.3-)
Thrombocytosis (D75.83
Depression (F32.-)
Toxic encephalopathy (G92)
New and expanded codes dor:
Social determinants of health to identify the following: Less than high school diploma (Z55.5), inadequate drinking/water supply (Z58.6), homelessness (Z59.0), lack of food (Z59.4), and other problems of housing and economic circumstances (Z59.8)
Additional Changes that will occur in April 2022:
Medical practices can start documenting three new ICD-10-CM diagnosis codes for vaccination status: (Z28.310 [unvaccinated for COVID-19], Z28.311 [partially vaccinated for COVID-19], and Z28.39 [another underimmunization rate]) from April 1 2022. When