Medical Billing | Medical Coding | Denials Management | AR Follow Up | Credentialing
"Because no two medical practices are alike, our service offerings are tailored to meet our clients' specific business requirements."
At Providers Care Billing LLC, we understand that the financial health of your medical practice is just as critical as your patients' health. We help you to grow your business by creating a business model that maximizes revenue and minimizes overhead expenses.
Our experienced team of medical billing and medical coding professionals are ready to become your offsite medical billing department.
Our Medical Billing Services Include:
▣ Benefits & Eligibility
▣ Verification
▣ Charge Entry
▣ Claims Editing, auditing, and processing
▣ Electronic and paper claim submission (within 1 business day of receipt)
▣ Pre-authorization
▣ Dedicated follow-up (within 7 days)
▣ ICD-10 Compliant with certified coders
▣ Weekly/monthly customized reports
▣ Patient statement billing and follow-up
▣ Secondary & Tertiary Claims submission
▣ Payment posting/adjustments
▣ Denial management/appeals process
▣ Tracking/claims management
▣ Managing collections
▣ Explain EOB(s) to Provider or Patient when necessary
▣ Accounts Receivable Management
▣ Patient Call Center / Patient inquires
"Effective Coding Is A 'Mission Possible' With Providers Care Billing LLC".
We are proficient in CPT Category I and Category II codes as well as modifiers depending upon the procedure, medical facility and the latest coverage policies (Medicare, Medicaid, Workers' Compensation and all commercial insurances). Our CPC Certified coders choose the most appropriate ICD-10 codes that accurately reflect the care provided to the patient. We keep up to date with AMA and CMS guidelines and assign the latest medical codes for the services provided to your patients
▣ ICD-10-CM combination codes
▣ ICD-10-CM activity and occurrence codes
▣ ICD-10-PCS codes for general and root operations
▣ Z-codes for reasons for encounters
▣ Outpatient surgery
▣ Ambulatory Surgery Centers (ASC) services
▣ Physician Evaluation and Management (E/M) services
▣ Emergency Department E/M services
▣ Interventional Radiology services
▣ Gastroenterology (GI)/Endoscopy
▣ Drug Administration
A major issue for Medical practices has been denied medical claims. Even though the work was completed; the payer, through some technicality, refuses to pay. Manual denial management is a daunting task. Figuring out why a claim is being denied by a payer is a costly and time-consuming venture. According to the Medical Group Management Association (MGMA), it costs $25 to $30 to manage the average denial. To counter this, Providers Care Billing LLC follows the following protocol to minimize medical billing denials and improve the collections of a practice.
Charges Entry Analysis – Checking claims in real-time to verify CPT and ICD codes and to ensure that they are in compliance with the payer's guidelines.
Sophisticated Rules Engine – We track payer denial activity and identify new rules. So that repeat medical billing or medical coding errors are not made.
Claim Alerts – We receive automated responses for events like claim re-submissions and claim status which ensures payment transparency and also makes sure that money doesn't fall through the cracks.
In-Depth Analytics – Customized real-time medical billing reports are run to make sure claims are being paid in full and also to identify areas where improvements can be made.
Main Functions of Providers Care Billing LLC Denial Management System:
Maximizing Revenue – Monthly reporting identifies causes of greatest financial impact and generation of cash flow.
Identifying the root cause of denials – Collecting and interpreting denial patterns to quantify denial causes and their financial impact.
Having accurate workflow priorities and scheduling for follow up – Collecting information on denial appeals, including status, escalation, correspondence with payers, and the disposition of denial appeals to increase recovery amounts.
Providing accurate and timely statistics for Clients – Providing management analysis reports and other information to prevent future denials.
Track, Prioritize & Appeal denials – Generating appeal letters based on federal and state statutes and case citations favoring the medical provider's appeal.
Avoiding untimely filing.
Analyzing the effectiveness of denial resolutions.
Creating innovative and efficient business process improvements to avoid future denials.
Providers Care Billing LLC is a premium Outsourced Account Receivable Medical which offers a wide range of accounts receivable outsourcing services to physicians, hospitals, clinics, and care centers
Providers Care Billing LLC's medical billing accounts receivable services are designed to give your business complete control over revenue leaks. We leverage a well-defined and proven collection procedure to generate faster payments across your entire credit portfolio. We also work with you to tailor a customized solution for receivables that require specialized treatment and strategic follow-up. By leveraging our capability, you get complete control over the complex and expensive processes at a fraction of the cost.
Our Accounts Receivable Services includes:
▣ Detailed research of accounts to determine a suitable action plan
▣ Continuous analysis for designs on codes, procedures or any national problems with appropriate timely reports
▣ Regular QA checking with readily available medical billing reports for the client
▣ Real-Time eligibility checking
▣ Real-Time claim scrubbing before it goes out
▣ Quarterly medical coding updates
▣ 24X7 support, with special assistance during emergencies
▣ Reduced overhead (25 to 35% below operational costs)
▣ Customized monthly reports
''Get networked and contracted with insurances"
Our team will handle the leg work on our end, analyze your fee schedules, and continuously monitor the status of your applications.
Our Credentialing Services includes but not limited to:
▣ New provider enrollment (All Payers/Multistate States Credentialing)
            ▣ Medicare
            ▣ Medicaid
            ▣ Commercial insurance companies (HMOs, PPOs, EAPs, Medicare & Medicaid replacement policies)
▣ Individual & Group Contracts
▣ Adding providers to an existing group
▣ Multistate credentialing
▣ Tax ID Add-up
▣ Demographics update
▣ PECOS/ I&A updates
▣ Facility Privileging
▣ NPI Registration (Type I and type II)
▣ CAQH Enrollment, Updates, and New Registration
▣ Group & Individual Medicare Revalidation
▣ Payer update requests for changes in demographic/provider data
▣ ERA & EFT Set-ups
☑ A unique solution for your medical billing which guarantee 100% correct claims submission which will ultimately result in increase in revenue and decrease in billing error.
☑ 99% FTPR , complete revenue cycle management services including medical billing, coding, credentialing and enrollment.
☑ Timely claims submission, denial management,  fixing rejections, and follow-up to make the whole billing process very smooth
☑ HIPAA Certified Medical billers and HIPAA Complaint tools.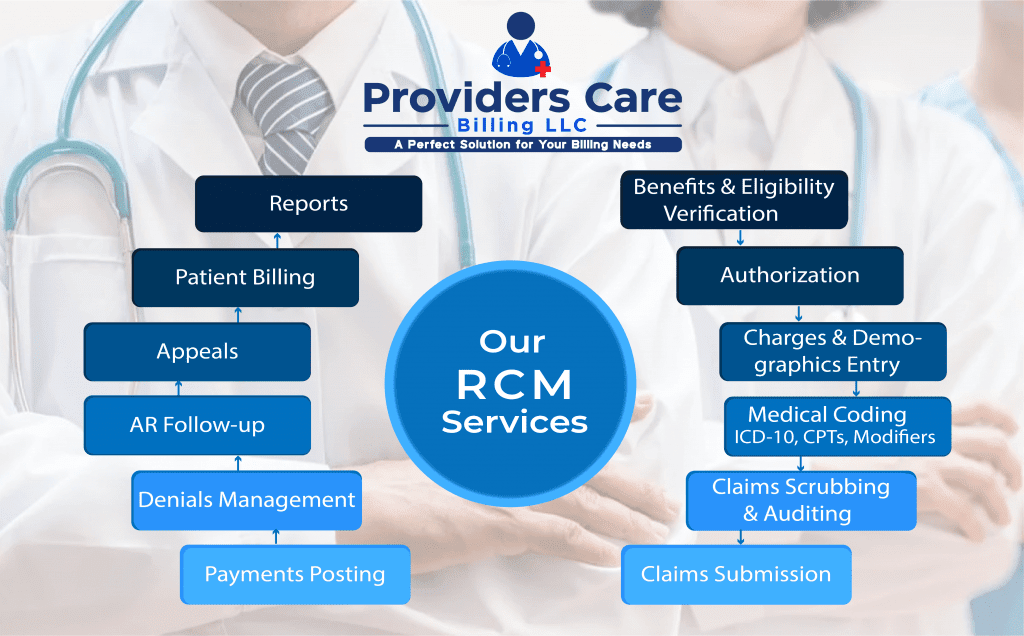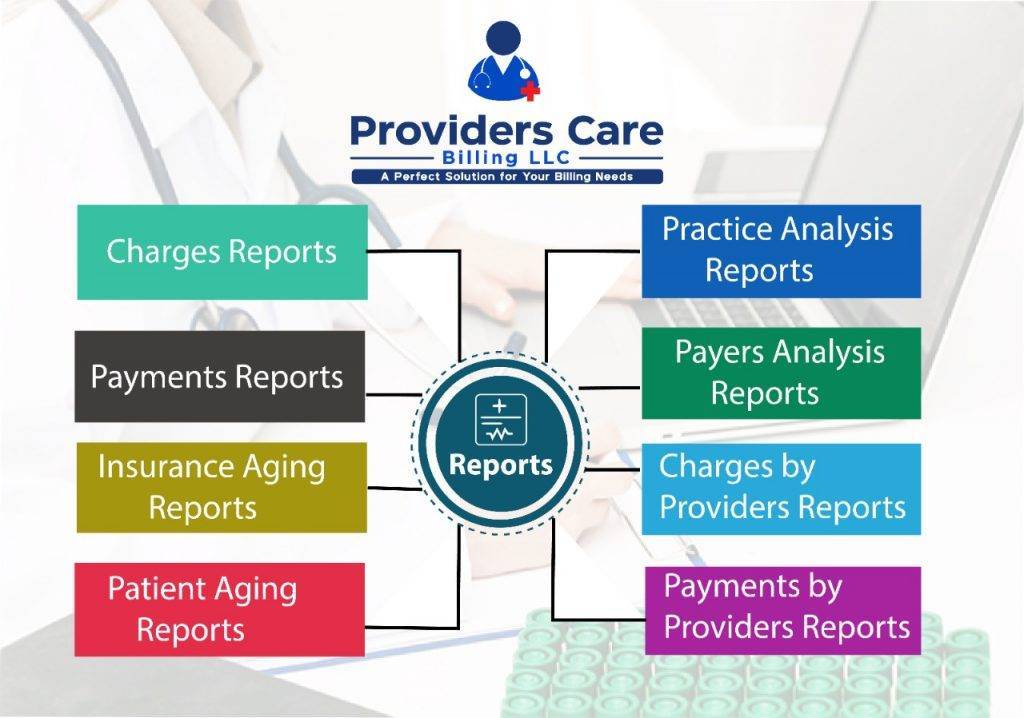 Daily, weekly, and monthly medical billing revenue cycle reports to show practices' financial health, patients and insurance AR reports, and all other reports on demand.
Flexible with all Medical Billing Software
Our team is experienced with a wide range of medical billing software and EHRs so don't worry about the software you are currently using. We are comfortable with all medical billing software & EHR systems.